This is the final week of the
Dear Valentine
Blog Challenge, inspired by
@timonysouler
poet, writer and queen of Toxic Musing. A recap of the rules:
4 days, 4 stories, 300 words. Each with a different set of prompts. I've chosen for once to make my four stories a set of interlinked tales entitled
La Belle

sans âme
. To get the full benefit, do read them in order. You can read the earlier installments here:
The prompts for Sat 25th February are as follows:
Surgical tools, a car, in the countryside
Cain's car smelt of leather. It was a hybrid, noiseless and sleek like its owner. "There's a bag on the back seat – change," he said.
"But -"
"It's a masquerade, K. Change." He slid in the driver's seat without looking at her. Heat spilled into her cheeks at his indifference. Time was when the sight of her bare body would have affected him. Now his black eyes – demon eyes – stared straight ahead at the dark country road, the trees flashing by.
She changed. Clinging silk spilled like blood over her body. Red. He'd always liked her in red. She looked up, met his eyes in the mirror. She looked away first.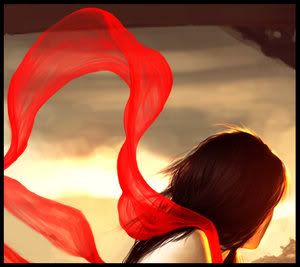 The fairground was fairyland. A thousand lanterns swung from abandoned rollercoasters and rust streaked carousels. In the sultry darkness, masked revellers danced. Masked but not hidden. Karen could feel their thoughts, the swollen tide of their emotions. All but his. Cain was an absence in the collective unconsciousness, a tear. Demon-spawn. Thinking of him, she didn't feel the woman's touch until it was too late.
"Karen." The voice was unfamiliar, but warm. Soothing as a breeze. She swung around. A woman stood beside Cain, cloaked, masked. La Belle? "You've been looking for me."



"I..." What to say to a murderer? To a thief? To Psych-Corps most wanted? "Yes. I need to take you in."
The woman smiled. "Not possible." Reaching beneath her cloak she removed something slender, pointed, silver in the moonlight. Impossible.
"It's an animacultellus," La Belle said.
Karen stared. "A myth."
"I had a soul once." Behind the mask, La Belle smiled. Familiarity tugged at Karen. Familiarity? "But then I had a daughter and my daughter did not. Would you give up a piece of your soul for someone you loved Karen?"

She felt Cain's gaze on her, his soulless demon eyes.

"Because you can save him. Just like I saved you."