Hope you're enjoying the
#7Virtues blog challenge
! Today we have...
Charity: A Gift from the Gods



Epimetheus knelt in the temple, trembling with joy. For too long, mankind had struggled lonely in the shadow of the gods. Prometheus had brought fire to leap in the grate and now Zeus' offered this mark of favour, an act of divine charity such as he could barely grasp.

He reached out to the altar, touched the smooth curve of her hip. "Pandora." Her name fell from his lips like a sigh. "Blessed be Zeus."

She smiled, her eyes liquid with love. He didn't notice the box beside her, or the way her curious fingers traced the tight wax seal.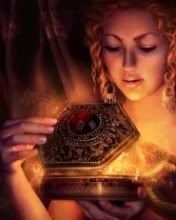 You've got to feel sorry for Epimetheus. After all the unpleasantness around his brother Prometheus stealing fire from the gods, it seemed that Olympus was just starting to lighten up. They sent him an olive branch in the form of the first woman, Pandora. Not only a woman, but one with Aphrodite's beauty - one
hot
lady. He must have been beside himself... it's a shame that no one had told him never to trust a Greek God bearing gifts. Because after Pandora opened that box...
You can read more about the Pandora myth on the
Theoi Greek Mythology website
.
A Chorus of Heavenly Virtues
Now you've read mine, take the tour. Go on, improve yourself. Nibble on some bite-size goodness, it's good for the soul. You can find a delicious menu by clicking through to these virtuous creatures:
David A Ludwig
,
Bryce Daniels AKA Poet
,
Lissa Bilyk
,
Rebecca T. Little,
Rosie Lane
,
Jamila Jamison
,
Rebecca Clare Smith
,
Amy Romine
,
The Gorm
,
brainhazewp
,
Surfing Madness
,
Glitterlady
,
JC Kitty
,
Zade Forrest
,
Emilia Quill
,
Kathy
,
Jeffrey Hollar